TAPPING RIGHT
AN OVERVIEW OF THE DIFFERENT TAP STYLES AND HOW TO APPLY THEM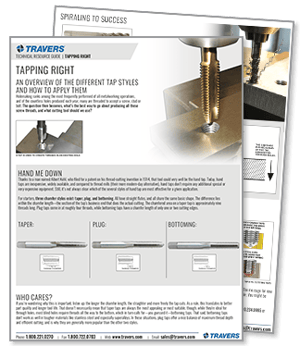 Holemaking ranks among the most frequently performed of all metalworking operations, and of the countless holes produced each year, many are threaded to accept a screw, stud or bolt. The question then becomes, whats the best way to go about producing all these screw threads, and what cutting tool should we use?
Download our comprehensive guide on different tap styles and learn how to best apply them to help you approach your tapping applications more efficiently than ever!
Fill out the form on this page to download your comprehensive Tapping Right Guide! By downloading, you'll learn more about:
The right hand tap for your application
Why using the right hand tap for your application is important
Chip control
And more!